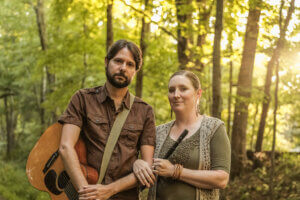 DOWNLOAD THE 2022 PRESS RELEASE
RECREATION/CONCERT EVENT  
PRESS RELEASE 
RELEASE DATE: May 16, 2022 
CONTACT Raianne Richards 
COMPANY Massachusetts Walking Tour 
PHONE (508) 981-6245  
EMAIL masswalkingtour@gmail.com 
WEB masswalkingtour.org
Walking folk musicians take on the Appalachian Trail 
Ten free community concerts and daily public hikes
through the Berkshires
Western MA, June 17 — After a two-year hiatus, the Massachusetts Walking Tour sets forth on  perhaps their most adventurous trek to date, taking on the Massachusetts section of the  Appalachian Trail. Over a ten-day stretch, the troupe of troubadours have organized daily public  hikes and will perform free community concerts each evening, walking with their packs and  instruments from Sheffield to North Adams. 
Since 2010, singer-songwriters Mark Mandeville & Raianne Richards have organized this  grassroots bipedal trek annually to raise awareness of recreational greenspace throughout the  state and create folk music coffeehouse style musical events. This June, with help from several  local AT Communities' volunteers, the 11th Annual Massachusetts Walking Tour is a series of daily  section hikes along the Appalachian Trail, each followed by an evening concert sponsored in part  by grants from the Massachusetts Cultural Council. The trek begins June 17th in Sheffield and  finishes June 26th in North Adams, stopping for concerts in Egremont, Great Barrington,  Tyringham, Lee, Washington, Dalton, Cheshire and Adams. For complete details on daily hikes  and a list of concert venues, visit www.masswalkingtour.org.  
The Massachusetts Walking Tour has performed over 121 concerts in 103 towns across the state,  partnering with the National Parks Service, Trustees, DCR, Freedoms Way and AMC to hike  sections of the Mid-State Trail, New England National Scenic Trail, Bay Circuit Trail, and many of  the region's smaller recreational greenspaces. In 2017, Senator Ed Markey officially recognized  the Massachusetts Walking Tour in the congressional record for an annual commitment to  promoting trails, arts and culture throughout the state.  
"Our intention is simply to help people understand the importance of greenspace in our busy  lives by inviting them out for a walk, to see younger and older folks hiking together, sharing  thoughts on a nice day out in the woods," states co-founder Mark Mandeville. "As for the  concerts, we do our best to create a respectful listening environment which highlights local  performers, artists and folks with good work to announce – in that way, each concert is unique." 
Aside from organizing the Massachusetts Walking Tour, performing and recording their original  compositions, Mandeville and Richards serve as music teachers in central MA through Blackstone  Valley Music, an independently owned school with a popular Band Camp Program and monthly  community coffeehouse. Find out more about Mark & Raianne at www.markandraianne.com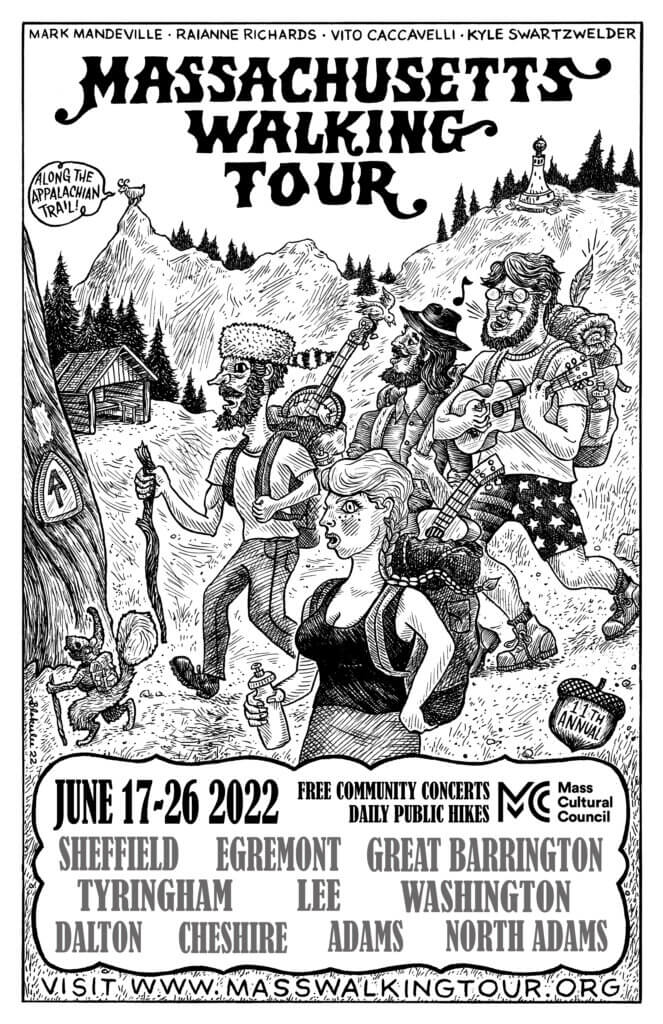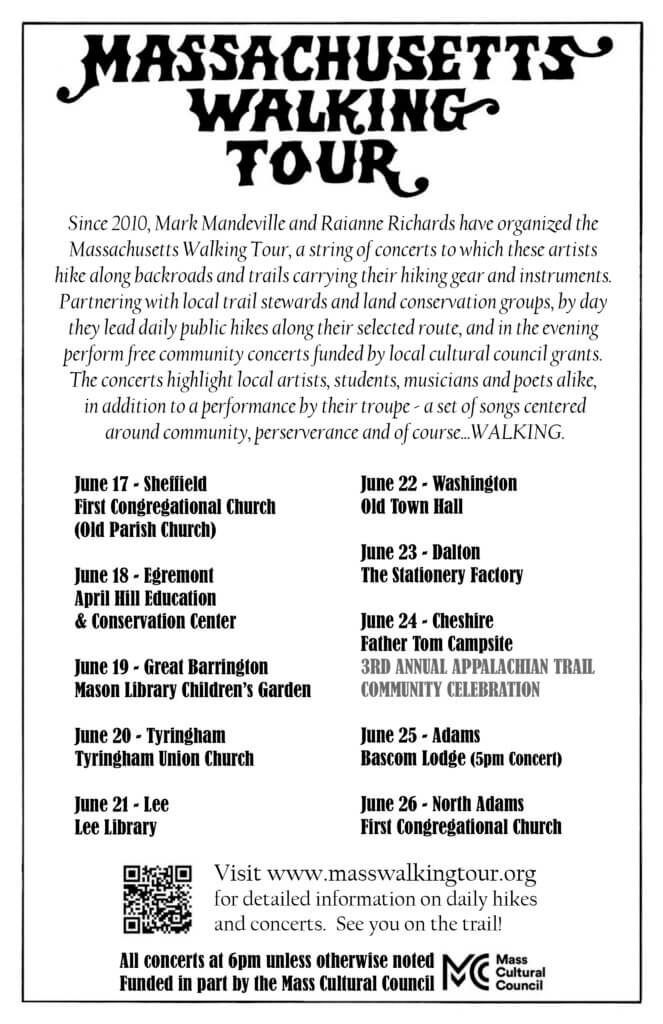 2022 Interview with Rich Frederick at Community Television for The Southern Berkshires
Additional Links:
WBUR's All Things Considered with Lisa Mullins, Interview 2016
Photos: