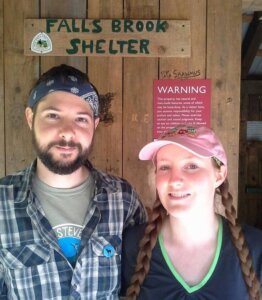 Download 2017 Blackstone Valley Press Release
The Eighth Annual Massachusetts Walking Tour, founded by songwriting duo Mark Mandeville & Raianne Richards, will be coming this year to the Blackstone Valley – performing 11 free community concerts while traversing the state on foot. Since 2010, Mandeville and Richards have organized now over 100 coffeehouse style concerts which showcase local musicians and artists across the state – creating a quality evening program for all ages and an opportunity for talent young and old to be enjoyed by a listening audience. Venues chosen for these community concerts include public libraries, town parks, and historical properties – and this year all events have been funded through grants from the Massachusetts Cultural Council program.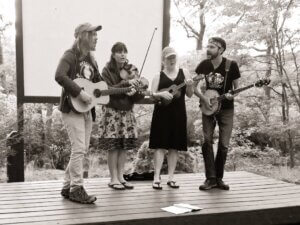 Carrying approximately 40-50 lbs of gear and instruments, the Massachusetts Walking Troupe, including veteran members Mark Kilianski and Amy Alvey, will be hiking from concert to concert using the Blackstone Valley Heritage Corridor's many recreational trails – Southern New England Trunkline Trail (SNETT), Charles River Bikeway, and trails within DCR's Riverbend Farm to name a few.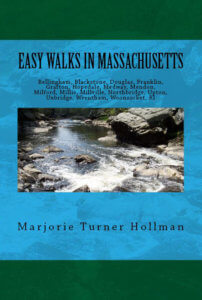 In addition to evening concerts, the troupe will also be organizing a series of short group hikes wherein the community will be invited to meet up with the Massachusetts Walking Tour as they travel between towns. These public hikes will highlight some of the Blackstone Valley's recreational hiking trails, routes which appear in local author Marjorie Turner Hollman's book Easy Walks In Massachusetts. All routes will be displayed and downloadable at www.masswalkingtour.org.

SECOND LEG – THOREAU'S WALDEN TO WACHUSETT June 27 – July 2
Download the "A Walk to Wachusett" 2017 Thoreau Trail Press Release

The Eighth Annual Massachusetts Walking Tour, founded by songwriting duo Mark Mandeville & Raianne Richards will be wandering in Thoreau's footsteps – performing 5 free community concerts (Concord, Stow, Bolton, Lancaster and Princeton) in towns along The Thoreau Trail while traversing the state on foot . In 1842 Henry David Thoreau travelled from Concord to the summit of Mount Wachusett in Princeton, a journey which he recorded in the essay, A Walk to Wachusett. Engaging with communities and partners throughout the region, the Freedom's Way National Heritage Area is working to create a recreational trail as an interpretive walking experience in the spirit of Thoreau's essay. The project's signature event in 2017—A Walk to Wachusett —a multi-day trek exploring the preliminary trail route accompanied by the Massachusetts Walking Tour.
The Thoreau Trail project launched in 2017 as a Thoreau Bicentennial legacy project with support from the National Park Service. Links to the registration for all hikes, concert information, etc. is available at: www.masswalkingtour.org or www.freedomsway.org
Additional Links:
WBUR's All Things Considered with Lisa Mullins, Interview 2016
Read Thoreau's "A Walk to Wachusett"
Photos: