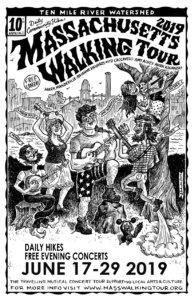 Routes and public hikes are available to download. Click on MAP. Please call Raianne Richards with any questions 508-981-6245.
All the Group Hikes are either a loop or hike in and hike out. More info can be found in the Easy Walks in Massachusetts books.

For the Full day hikes there will be road walking

We do NOT have a vehicle so we cannot provide help with shuttling or staging cars.

You should have water, food and bug spray. 
All concerts are FREE and from 6-8 pm unless otherwise noted.

Our Performance Location is listed with each date. 
Jun. 17 – Holliston Public Library – Holliston MA
Group Hike: MAP  3.8 miles one way or up to 7.6 miles round trip along the Upper Charles Rail Trail. Meet at 9 am at IHOP (formerly Friendlys). We recommend turning around at route 126 (3.8 miles one way) to return to your vehicle or turning back sooner depending on how long you want to walk.
Full Day Hike: MAP 5.8 miles from IHOP (formerly Friendlys) in Milford along Upper Charles Rail Trail.
Performance Info: 752 Washington St. Holliston MA 01746
Local Artists: Doug Kwartler & Susan Levine, Dan Blakeslee, Tom Smith,  Dan & Faith
SHOWTIME: 6-8pm
Sponsored in part by the Holliston Cultural Council
www.hollistonlibrary.org
Jun. 18 – Millis Public Library – Millis MA
Group Hike: No Map available. Approx 1.5-3 miles. Meet at 2 pm at 72 Pleasant St Millis, MA – Pleasant Meadows Open Space. Look for Trail Kiosk. This property connects to Tangerini's Farm Trails.
Full Day Hike: MAP Approximately 9 miles. Wenakeening Woods via Summer Street and road walking down to Pleasant Meadows connecting to Tangerini Farm and up to the Library.
Performance Info: 961 Main St. Millis MA 02054
Local Artists: Kala Farnham, Linda Marks, TBD
SHOWTIME: 6-8pm
Sponsored in part by the Friends of the Millis Public Library
www.millislibrary.org
Jun. 19 – Federated Church of Norfolk – Norfolk MA
Group Hike: Meet at 2 pm at Stoney Brook Wildlife Sanctuary 108 North Street, Norfolk, MA. 2 miles of loop trails MAP. $4 fee for non-members of MA Audubon.
Full Day Hike: MAP 6 miles from Village St in Millis , pit stop at Organic Buzz and then to Stoney Brook Wildlife Sanctuary in Norfolk via Rt 115 and then back to the church.
Performance Info: 1 Union Street Norfolk MA 02056
Local Artists: Wolfpen, Unlikely Strummers, Eli Go
SHOWTIME: 6-8pm
Sponsored in part by the Norfolk Cultural Council
www.fcon.org
Begin 10 Mile River Watershed Council Area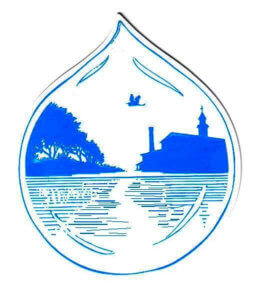 Jun. 20 –  Boyden Library – Foxborough MA
Group Hike: Meet at 1 pm at the Lane Homestead Property. Parking at the Learning Center on Lamprelot Road Foxboro, MA. 1-2 miles of walking trails out and along the reservoir MAP.
Full Day Hike: MAP 7.3 miles road walking to the Lane Property and then to the library.
Performance Info: 10 Bird St. Foxborough MA 02035
Local Artists: Jackson Gillman, Annie Kennedy, TBD
SHOWTIME: 6-8pm
Sponsored in part by the Foxborough Cultural Council
www.boydenlibrary.org
Jun. 21 – South Common – Mansfield MA
Group Hike: Meet at 11 am at Corporal Robert Francis Hardy Conservation Area (formerly called Maple Street Conservation Area). Maple St in Mansfield, MA. Look for Trail Kiosk. Approx 1-2 miles of trails. Trail MAP
Full Day Hike: MAP Approx 8 miles of road walking from Boyden Library to Corporal Hardy Conservation Property and then on to South Common in Mansfield.
Performance Info: Six Park Row Mansfield MA 02048  RAIN LOCATION: Qualters Middle School Auditorium 240 East Street Mansfield, MA 02048
Local Artists: John Andy Morris & Lynn Littlefield, TBD
SHOWTIME: 6-8pm
Sponsored in part by the Mansfield Cultural Council
Jun. 22 – L.L. Bean – Mansfield MA
Performance Info: 280 School St, Mansfield, MA 02048
**special appearance and Easy Walks book signing event 11am-1pm** REGISTER ONLINE to reserve a spot
Jun. 23 – Wrentham Senior Center – Wrentham MA
Group Hike: Partnering with L.L. Bean for a group hike up Knuck Up Hill. Registration will be required and available online and at trail head. Meet at 4 pm at Wrentham Senior Center Parking Lot. REGISTER ONLINE (Look for the event on June 23)
Performance Info: 400 Taunton St. Wrentham MA 02093
Local Artists: Cameron Sutphin, Tom Irving, Unlikely Strummers, Faith Robinson
SHOWTIME: 6-8pm
Sponsored in part by the Wrentham Cultural Council
Jun. 24 – Telford Park – Plainville MA
Group Hike: Meet at 11 am at the John Bowman Memorial Trail. 35 Everett Skinner Road. Plainville, MA. Look for the Green Sign that says John Bowman Memorial Trail. Parking at the little league field of the Plainville Athletic League Complex. Trail head is just before the parking lot.
Approx 2 miles of trail MAP.
Full Day Hike: MAP 6.3 miles Road Walk from Creek St in Wrentham  through the state forest and conservation land stopping at the John Bowman Trail and then on to Telford Park.
Performance Info: 142 South St. Plainville MA 02762
Local Artists: Collette O'Connor, Ric Allendorf, Eli Go
SHOWTIME: 6-8pm
Sponsored in part by the Plainville Cultural Council
www.plainvillepubliclibrary.org
Jun. 26 – First Congregational Church – North Attleboro MA
Group Hike: Meet at 10 Am at the Overlook (see map) at WW1 Memorial Park 365 Elmwood St, North Attleborough, MA. 1-2 miles loop plus other trails. MAP
Full Day Hike: MAP 7.2 miles. Road walk to WW1 Memorial Park then follow Mt. Hope Street right to the church.
Performance Info: 675 Old Post Road North Attleboro MA 02760
Local Artists: Andy & Judy, Allison Rose, Dave Fontaine, Roland Jordan & Ed Clavette, Mary Ellen Winsor, Jim Fennell
SHOWTIME: 6-8pm
Sponsored in part by the North Attleboro Cultural Council
www.oldtownucc.org
Jun. 27 – Attleboro Public Library – Attleboro MA
Group Hike: Meet at 10 am at Judith H. Robbins Riverfront Park on Riverfront Drive in Attleboro and walk the whole greenway to Larson Woods. 1 mile (about 2 miles to loop back using Riverbank Road see description here)
2nd Option Group Hike: Join us approx 12 noon at Larson Woods on Riverbank Road in Attleboro, MA. less than 1 mile. MAP
Full Day Hike: MAP 5 miles. Road Walk to Utilize the new "Attleboro Greenway" (too new for google maps) to follow the river and connect from Judith H. Robbins Riverfront Park to the Kevin J. Dumas Ten Mile River Walkway to Balfour park to Larson Woodland and then circle back to the library. Some of these trails are not on google maps yet. 
Performance Info: 74 N Main St. Attleboro MA 02703
Local Artists: Kim Moberg, Crowes Pasture, Erin Ash Sullivan, Joia S. Mukherjee
SHOWTIME: 6-8pm
Sponsored in part by the Attleboro Cultural Council
www.attleborolibrary.org
Jun. 28 – Seekonk Meadows – Seekonk MA
Group Hike: Meet at 12 Noon at Doreen Tomlinson Field 401 Daggett Ave Pawtucket RI 02861 to get on the 10 mile River Greeway MAP (available on google maps navigation as well.) From Daggett Field Through Slater Park and down to the Kimberly Ann Rock Athletic Fields. 3 miles one way. Parking at both ends optional for staging vehicles.
Full Day Hike: MAP  11 miles. Catch up with us as we pass by the Mass Audubon Oak Knoll Wildlife Sanctuary down to Route 152 and Central Ave crossing the river into Pawtucket, RI to use the 10 Mile River Greenway starting at Daggett Field. After exiting the Greenway at Rock Athletic Fields Follow Route 152 back up to the Seekonk Meadows/ Public Library.
Performance Info: 410 Newman Ave Seekonk MA 02771
Local Artists: Steve Pavao, Matt Borrello, Zachery and Seth Holme
SHOWTIME: 6-8pm
Sponsored in part by the Seekonk Cultural Council
www.seekonkpl.org/seekonk-meadows
Jun. 29 – Christ Church – Swansea MA
Full Day Hike: MAP 13 miles From Seekonk Meadows to Christ Church in Swansea. There are trails behind the Swansea Public Library to explore if you arrive early. Village Trails  
Performance Info: 57 Main St, Swansea, MA 02777
Local Artists: Roberta Pearle Lamb, Michael Gutierrez-May, TBD
SHOWTIME: 6-8pm
Presented by the Swansea Village Community including Christ Church and the Swansea Free Public Library
www.christchurchswansea.org