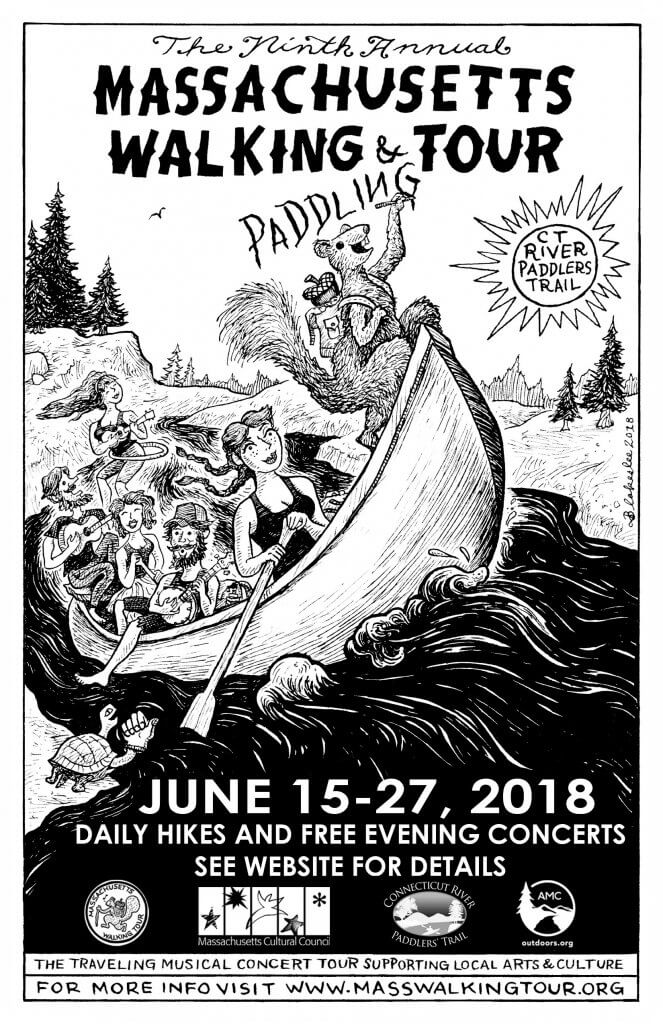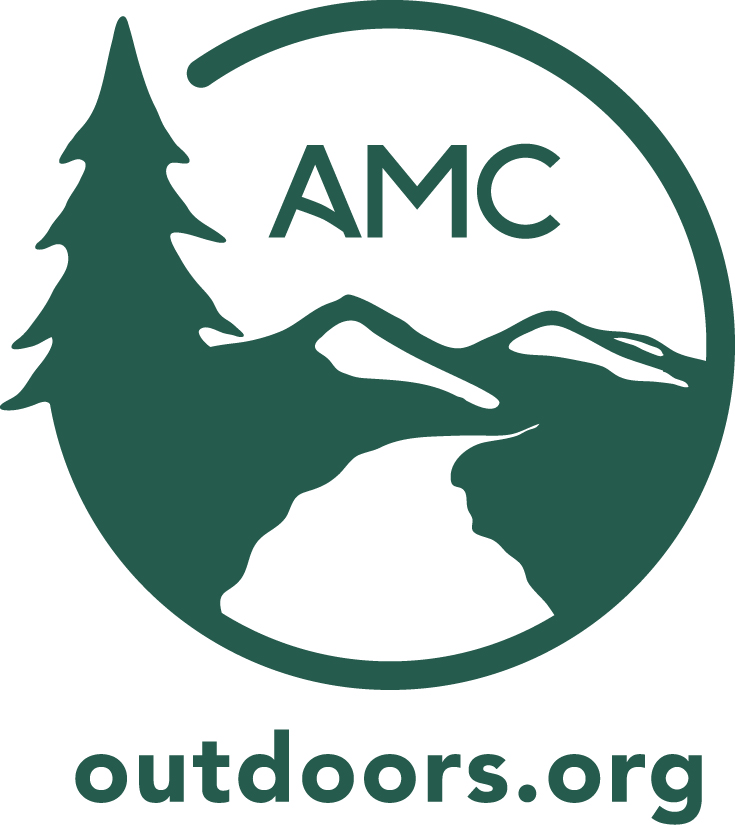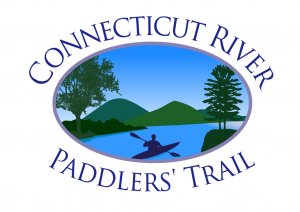 All concerts at FREE unless otherwise noted.
Routes and public hikes may change so check back for details. The paddles and hikes are typically in the morning ending approximately 3 pm. The concerts are all at night. 
Jun. 15 – Northfield Golf Club Pavilion – Northfield MA
31 Holton St, Northfield, MA 01360
Local Artists: Watershed Road, Ben Cosgrove, Al French
SHOWTIME: 6-8pm
Sponsored in part by the Northfield Cultural Council
northfieldgolfcourse.com
Paddle/ Hike Info: Put in Pauchaug Brook  
Take out Munn's Ferry Campground
Paddle 4 miles. Hike to Northfield Golf Club 4.3 miles MAP
Jun. 16 – Great Falls Discovery Center (DCR) – Turners Falls MA
1101, 2 Avenue A, Turners Falls, MA 01376
Local Artists: Sean Ryder, Michael Nix, TBA
SHOWTIME: 6-8pm
Sponsored in part by the Montague Cultural Council
greatfallsdiscoverycenter.org
Paddle/Hike Info: Put in  Munn's Ferry Campground Take Out Barton's Cove Campground
Paddle 10 miles. Hike 1 mile to Discovery Center. MAP
Jun. 17 – Mt. Sugarloaf State Reservation (DCR) – South Deerfield MA
300 Sugarloaf St, South Deerfield, MA 01373
Local Artists: Dan & Faith, Gillian Grogan, Luke DeRoy
SHOWTIME: 6-8pm
Sponsored in part by the Deerfield Cultural Council
mass.gov
Paddle/Hike Info: Put in Poplar Street (Shuttle around Dam from Barton's Cove to Poplar Street via the power company) Take Out Hatchery Brook
Paddle 2 miles. Shuttle to Mount Sugarloaf for Group Hike.
June 18 – June 19 – Paddling and camping along the CT River Paddlers Trail. Please email masswalkingtour@gmail or call/text Raianne 508-981-6245 for details.
Jun. 20 –  Skinner State Park – Mt. Holyoke Summit House (DCR) – Hadley MA
10 Skinner State Park Rd, Hadley, MA 01035
Local Artists: Chuck Greene, Andy & Judy, Tanner Ogle, Oyster War
SHOWTIME: 6-8pm
Sponsored in part by the Hadley Cultural Council
mass.gov
Paddle/Hike Info: Put in Ellwell Island Campsite
Take Out Mitch's Marina 
Paddle 6 miles. Hike 2.3 miles via Taylor Notch Trail MAP. Alt Hike 2.7 miles via the Park Road MAP
Jun. 21 – Forbes Library – Northampton MA
20 West St, Northampton, MA 01060
Local Artists: Dan Blakeslee, WICN's Nick Noble, AEIOUkes, Benjamin Wetherbee
SHOWTIME: 6-8pm
Sponsored in part by the Northampton Cultural Council
forbeslibrary.org
Paddle/Hike Info: Put in Mitch's Marina Take Out Arcadia Wildlife Sanctuary on the Oxbow.
Paddle a few miles. Walk 3.6 miles along Manhan Rail Trail to Library MAP
Jun. 22 – Arcadia Wildlife Sanctuary – Easthampton MA
127 Combs Rd, Easthampton, MA 01027
Local Artists: Amy Kucharik, TBA
SHOWTIME: 6-8pm
massaudubon.org
Hike Info:
Starting at Earle Street Walk 3 miles along Manhan Rail Trail to Arcadia MAP
Jun. 23 – Mt. Tom State Reservation Pavilion (DCR) – Holyoke MA
125 Reservation Rd, Holyoke, MA 01040
Local Artists: Cool Hand Ukes, Stevens Family Band, TBA
SHOWTIME: 5-7pm at the pavilion near the visitors center
Hike Info: Meet at the Lake Bray parking area for group hike to pavilion
mass.gov
Jun. 24 – Holyoke Canoe Club – Holyoke MA
Old Ferry Rd, Holyoke, MA 01040
Local Artists: Paul Beck, Sadish Radish, TBA
SHOWTIME: 6-8pm
$5 donation for non-members
holyokecanoeclub.com
Jun. 25 – South Hadley Public Library – South Hadley MA
2 Canal St, South Hadley, MA 01075
Local Artists: Ric Allendorf, Dan Daniels, Tom Smith
SHOWTIME: 6-8pm
Sponsored in part by the South Hadley Cultural Council
shadleylib.org
Hike Info: 5.8 mile walk
MAP
Jun. 26 – Chicopee Public Library – Chicopee MA
449 Front St, Chicopee, MA 01020
Local Artists: Colette O'Connor, TBA
SHOWTIME: 6-8pm
Sponsored in part by the Chicopee Cultural Council
chicopeepubliclibrary.org
Hike Info: 6.2 mile walk
MAP
Jun. 27 – Richard Salter Storrs Library – Longmeadow MA
693 Longmeadow St, Longmeadow, MA 01106
Local Artists: Liz Reed, Tom Kopyto Music Lesson Studios
SHOWTIME: 6-8pm
Sponsored in part by the Longmeadow Cultural Council
longmeadowlibrary.org
Paddle/Hike Info: Hike 9 miles via CT Riverwalk and Bikeway MAP